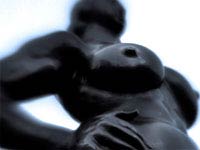 We've long known that a nice pair of tatas can stop traffic. (Although this doesn't always work as well as expected. When a Dayton, Ohio, hitchhiker exposed her breasts June 13 she nearly caused a fender-bender, but the only car that stopped to pick her up was the cops. They gave her a ticket for jaywalking.)
But did you know that those mighty mammaries (or the frippery that tries to contain them) can also stop a plane, help elect a president, solve America's energy problems—even save lives? It's true: The news last week was full of breathtaking tales about the power of boobage and bras. Here, just a few of them.
According to Betty Jenkins, now 94, it was her bosom (or lack thereof) that caused a kerfuffle when she was a young woman flying to South America. She told NPR last week that her mother had given her a special bra to give her some curves. Unlike the usual padded numbers you can find everywhere these days, this was an inflatable bra that you filled by blowing into the cup pads with a straw, which Jenkins did to the tune of a modest 32 inches.
Unfortunately, the bra inflated itself well past its 48-inch limit near the Andes (thanks to the high altitude and an unpressurized cabin, Jenkins says), until one cup gave an explosive pop. An emergency landing and an embarrassing explanation ensued. In today's restrictive times, Jenkins's bra would probably be confiscated before takeoff or counted as her one carry on.
In other news, the notion that bobbing boobs could actually be harnessed to produce energy was explored by writer Adrienne So. Anyone over a 32A who has ever tried to gracefully jog knows that the motion and friction caused by your girls can be tremendous. Could a bra capture that front-to-back, up-and-down, and side-to-side breast-shaking action and use it to help solve the energy crisis, wondered So? Or maybe just generate enough to power your iPod?
Several scientists were enthusiastic about the idea (one, a professor Zhong Lin Wang of Georgia Tech, is already working with fabric containing nanowires that will capture energy from motion), but I wouldn't hang up your old jog bra just yet.
Unless it's on a cable on a mountainside in the Alps: Hiker Jessica Bruinsma was rescued after being lost in the Bavarian Alps for almost three days—thanks to her smart thinking and her sports bra. Trapped on a ledge, Bruinsma removed her bra and attached it to a nearby cable as a signal. When the cable moved up the mountain, the bra "flag" was spotted and helped guide rescue helicopters to the injured hiker. Talk about rising to the occasion!
Last, here's a different kind of "support" story. You've heard of the white vote and the black vote and the middle class vote. Now…the boob vote! Yes, the mighty breast just might help get Barack Obama elected, if the B4B team at Boobs4Barack has anything to do with it. The site, whose creator I was unable to track down (let me make a mad guess that a man is behind it), invites women to show support for Barack Obama by uploading pictures of their breasts. You'll find photos of bras decorated with campaign pins, cleavage dressed up with Obama stickers, and one boob on which a supporter has written above her nipple (in what appears to be ballpoint pen): WE CAN DO IT! And I assume she was talking about politics.
The site has nothing to do with official Obama fund-raising, of course, but I do enjoy the idea of CNN's John King using his magic board on election night to count the boob vote.
Although it's clear to me from past elections that lots of boobs have been voting for years.
(PHOTO: GETTY IMAGES)
Recent posts by Anne Krueger:
---
Related Links: