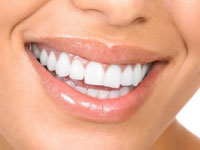 Like a lot of people, I wish I had the pearly white teeth of a Hollywood starlet. But last year my dentist told me it would take $5,000 out-of-pocket to make it happen, so I decided to continue frittering away my money on food, kids' clothing, and $4-a-gallon gasoline instead. (For more on pricey teeth, check out "The Soaring Cost of Dental Care Is Nothing to Smile About").
But those dreams die hard. So when I heard about the Ultimate Dental Health Makeover contest run by the magazine Dear Doctor: Dentistry and Oral Health, my ears perked up. If you win the contest, which is open to contestants through Dec. 1, you get all the dental work you need, whether it costs $5K or $33K.
Throwing caution to the wind, I entered the contest. But I couldn't help wondering: "What's the catch?" So I tracked down the publisher of the magazine, Mario Vilardi, DMD, to find out. This is the magazine's third dental sweepstakes: A real person won the first one, and the second winner is currently being selected, according to Vilardi.
The winner of the first contest, who was featured in the magazine, needed $33,000 worth of work—hence the contest's upper limit. Brian had teeth that were chipped and discolored, missing in some cases, and one that had to be extracted due to an infected root canal. The 38-year-old also had a suspicious lesion inside his lip and a history of infrequent smokeless tobacco use, so he had a cancer screening as well. All this, plus replacement of the missing teeth, added up to the hefty price tag.
But Vilardi says price is not the issue, and it's not necessary to have lots of dental problems to win the contest, which brings me back to the catch.
It works like this: The magazine has a group of contest sponsors, who donate the "stuff" you need to make pretty teeth, such as braces and bone-regenerating factors.
However, your dentist has to agree to waive his or her fee in exchange for 1,000 free magazines and the publicity that comes with coverage in the magazine.
So that means if you happen to live in rural South Dakota, and you win the contest, there's no guarantee that you'll find a local dentist willing to do the work. But heck, $10K of dental work might be worth a few plane tickets.
You also have to agree to appear in the magazine. And the magazine or its sponsors aren't going to pay the gift tax. So you'll owe Uncle Sam a portion of your award.
The magazine's staff picks 10 people at random, and calls them to see if they object to the gift tax, says Vilardi. "Believe it or not, one person in the last contest did say no, and then what we did was pick another person," he says. The magazine then evaluates those 10 people and selects a winner.
And the emphasis is on health, says Vilardi, not just a pretty smile.
"I think that's really important to clarify, it's not just to make someone beautiful," says Vilardi. But that doesn't hurt either.
Vilardi says they had 6,000 entries for the first contest and 10,000 for the second. Those odds aren't too bad, considering my only other option is winning the lottery.
Even Hollywood starlets start out with nothing more than a dream.
(PHOTO: FOTOLIA)
Recent posts by Theresa Tamkins: